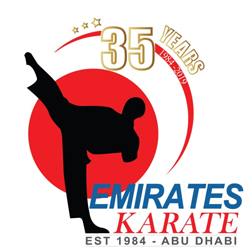 Terms & Conditions
1. All students are required to pay an admission fee of AED 50 to Emirates Karate Centre upon initial registration which is one-time and non-refundable payment. Classes will be charged separately.
2. Failure to follow terms & conditions or session rules can result in your child being excluded from the sessions.
3. I understand that Emirates Karate Centre Teachers use a 'Hands on' approach in teaching.
4. For age group 3yrs to 5yrs, the class/session duration will be 30 minutes and age group 6yrs and above will be 45 minutes.
5. No per session payment will be entertained. Students will have to pay for the term. All payments should be done at the month/term beginning and the payments or sessions will not be carried forward.
6. In case the student could not attend any training session, there will be no refund for the session missed.
7. If a day is chosen for the term class, it is not advisable to change the day later during the term in any circumstances. This is applicable to even missed sessions and this procedure is to help the instructor to manage maximum limit of Students attending a class.
8. For belt examination & certification there will be a separate charge.
9. During the session, no parents or guardians are allowed to be inside the hall.
10. Students should arrive 5 minutes prior to the class and should be collected promptly when the session finishes.